Our Staff
Meet our team !! Please take a few moments to learn about our skilled practitioners and our friendly, nurturing staff.
At Clearwater and Westchase Pediatric Care, we consider it both a great joy and responsibility to care for children. Most of us are parents ourselves, so we strive to be understanding and available to the families we are privileged to serve. We are honored that you have chosen us as your child's primary medical provider and are confident that you will be pleased with the quality of care and service that we can provide you and your family.
A vital part of our service to children begins with our outstanding staff who works hard to manage and maintain a professional, caring, and supportive environment for our patients promptly. Our doctors are lifelong learners. Not only have they received advanced medical training in pediatrics, they continually pursue ongoing education to stay abreast of the latest in child health care.
Your child's health is as important to us as it is to you. We look forward to providing you with the excellent medical care your child deserves.
Raj Pai, MD, FAAP
Medical Director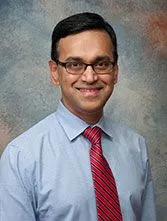 Dr. Pai completed his residency training in Pediatrics at the prestigious Henry Ford Hospital in Detroit, Michigan. He also has additional training in Pediatric Hematology-Oncology at Children's Hospital of New Orleans. After graduating with honors, Dr.Pai continued as the Chief Resident of the program in Detroit for a year. He was responsible for resident education and worked extensively with critically ill children in the Pediatric ICU. He has also worked at the Emergency Room at All Children's Hospital and has been a principal investigator for Pediatric Research studies at the Clinical Research of West Florida. Dr.Pai has practiced in Florida for the last 20 years and established "Clearwater Pediatric Care" in June 2002 and added the Westchase location in March 2014. He is Board-certified by the American Board of Pediatrics and is a Fellow of the American Academy of Pediatrics. Dr.Pai has a special interest in childhood asthma, eczema, and infectious disease. He is on staff at Morton Plant Hospital, Mease Hospitals, and All Children's Hospital.
Mary Ann Hicks, MD FAAP
Dr. Mary Ann Hicks completed her residency training in Pediatrics at the University of South Florida, working at both All Children's Hospital and Tampa General Hospital in 2002. After graduation, she began her career in the Pediatric Emergency Center at Halifax Medical Center in Daytona. After getting married and moving to the Tampa Bay area in 2005, Dr.Hicks continued in the acute care field, working in the pediatric ER at Brandon Regional Hospital. Subsequently, she joined Manatee Rural Health Services in Bradenton, where she worked as a primary care pediatrician at the Lawton Chiles Family Center. Her duties included not only outpatient services but also nursery and inpatient management of hospitalized children as well. Dr. Hicks is certified by the American Board of Pediatrics and is a fellow of the American Academy of Pediatrics. She is on staff at Morton Plant and Mease Hospitals. During her free time, Dr. Hicks enjoys scuba diving and deep-sea fishing.
Sheila Mak, DO FAAP
Dr. Sheila Mak graduated from Rutgers University in New Brunswick, NJ, with a bachelor's degree in Biological Life Sciences. Following her graduation, she attended Medical school at Lake Erie College of Osteopathic Medicine in Erie, PA. After graduation, Dr.Mak joined an accredited pediatric residency training program at Goryeb Children's Hospital in Morristown, New Jersey. She completed her residency in 2011, following which she worked for Skylands Pediatrics-a private pediatric group in Sparta, NJ, for two years. In 2013, Dr. Mak and her family relocated to Tampa Bay for her husband's work, who is an Emergency Room physician. Dr. Mak is Board-certified by the American Board of Pediatrics and is a fellow of the American Academy of Pediatrics. She has a special interest in breastfeeding medicine. During her spare time, she enjoys traveling, reading, and spending time with her husband and two daughters.
Emily Jones, MD
Dr. Emily Jones is a Florida native. She graduated from the University of South Alabama College of Medicine in Mobile, Alabama, and completed her residency in Pediatrics at the University of Florida in Gainesville. Following her residency, she practiced primary care Pediatrics for two years in Chiefland and gained valuable experience working in a rural setting. Dr. Jones is passionate about breastfeeding and is working towards getting her IBCLC (International Board-Certified Lactation Consultant) certification from the University of FL Center for Breastfeeding. She is Board-certified by the American Board of Pediatrics and is also a fellow of the American Academy of Pediatrics. She is on staff at Morton Plant and Mease Countryside Hospitals. During her free time, she enjoys reading, cooking, yoga, learning about new cultures, and cheering for the Tampa Bay Lightning!.
Richard Wolf Pediatric APRN
After retiring from the United States Army with over 20 years of dedicated service to our country in Afghanistan, Rich returned to an academic setting to complete his master's of science in nursing from South University in Tampa. Upon completion of his studies, he gained Board Certification as an Advanced Practice Nurse Practitioner in Family Medicine. After his graduation, Rich worked in a pediatric urgent care clinic and primary care pediatric office in St.Petersburg for two years before joining our practice in February 2020. He believes that patient-centered care involves knowing and understanding the patient in their family setting and enjoys collaborating with parents on the best possible care for their children. Rich is passionate about preventive medicine and patient/parent education. He is a member of the Florida Association of Nurse Practitioners and a life member of the Association of the US Army. Rich is an avid reader who works hard to stay abreast of the most current developments in Pediatrics. In his free time, he likes working on cars, participating in water activities and traveling.